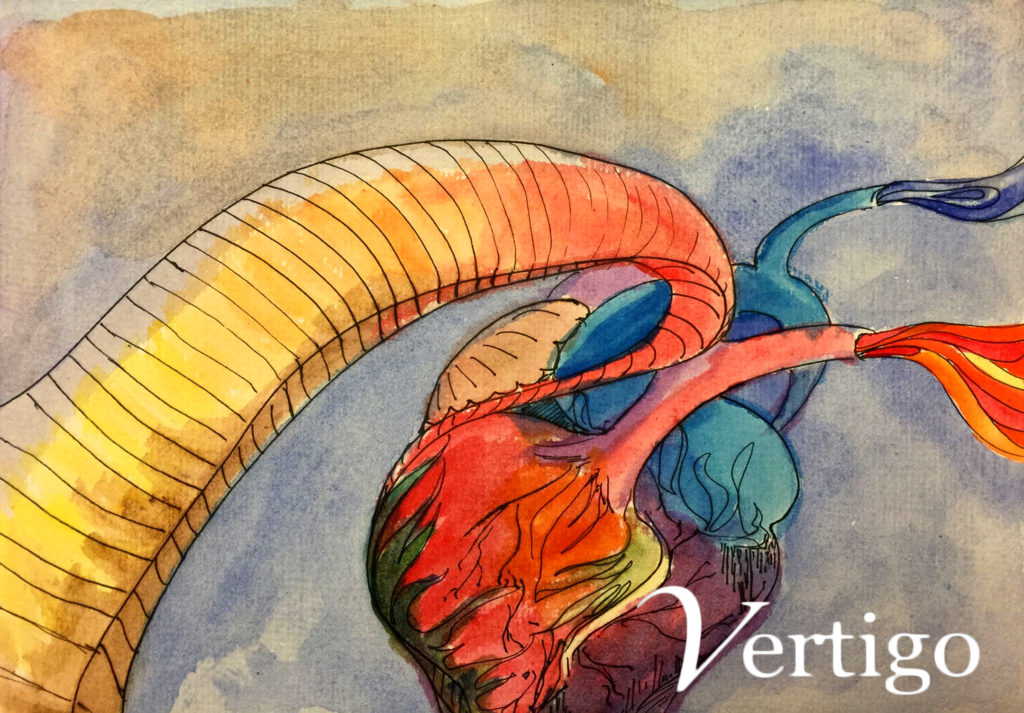 The accustomed linearity that guides you along — steps, corners, streets, avenues. This is a path marked by scores of yellow. Mind and heart — those are a different coursing. Look inward and lateral lines wilt into question marks.
Left atrium, to aorta, then out, as you trek closer and closer to the heart of the matter.
Deathless memories dig like sea glass into its Delphian chambers and valves. Against strong pulses, the scar tissue of a bitter parting still twinges from time to time. The nightmares you saw as a child lurk in the largo of its cardiac cadence, echoing past darkness. Somewhere amidst this chasm lives your forgotten mother tongue, the one that your parents carefully cultivated. Mixed heritage tattooes its legacy upon your walls, and when your heart beats, you can hear their warnings pulse with the wisdom of centuries.
Dear reader, tread carefully. An instrument more powerful and ancient than the blood of kings is breathing will through your veins.
—the Editors, Winter 2017
---
Table of Contents
Poetry
Raksha Narasimhan: White to Red
Chris Wang: To Wash a Shore
Sahana Ilenchezhian: The Struggle
Irene Han: In Anonymity, I Title Myself
Prose
Justin Chu: Unchained
Rida Khawaja: Remembering Jade
Caitlin Leong: Paper Raindrops
Grace Huang: My Name
Saniya Doshi: Monster
Amberli Chiang: Memory Beads
Christine Cheng: How Fish Came to Be
Maya Sabatino: Gallery Walk
Blair Chen: Eclipse
Cynthia Li: Derek Wang and the Prophecy of Peace
Joyce Zhang: Blood Orange
Anya Poplavska: Almost darkness.
Yiu-On Li: A Small Chat, Somewhere
Blair Chen: A Lecture to Myself